Meadowmont Subdivision Firewise 2020 Certificate
Recent release and Updates.
PG&E services, with property owners approval, continue process to keep all flammable growth & trees away from their power lines.  Extra efforts in Big Trees area due to tree damages during winter storms.  Power may be shut off during windy weather conditions.
Updated List of approved Lot cleaners provided by EPFD and info on obtaining Burn Permits ON Line
CC Tree Mortality Program Press Release 201806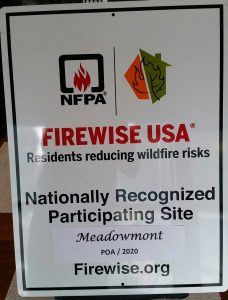 Meadowmont is Firewise approved!
MAKE YOUR HOME (AND COMMUNITY) FIRE SAFE – 308KB – pdf
Fire once played its natural role in California, keeping vegetation thinned out and healthy, which in turn kept fires small and beneficial. As humans moved into wildland areas and began suppressing all fires, vegetation increased to the dangerously overgrown levels we see now, resulting in extremely destructive wildfires. To maintain the safety of our homes, families, firefighters, community, and natural resources, we must replicate fire's traditional role by removing the excess vegetation around our homes and neighborhoods.  Read more by Clicking Here.
Click here to See Fire Season Information and instructions. Click here to download the Homeowners Check List and instructions.